I forget who reported it first, but it came out a few days ago that President Trump was going to be presenting Bill Belichick with the Congressional Medal of Freedom. Now listen, I always keep it real with you guys here, I had ZERO clue what the hell that was. So I googled it and..umm..I'm confused..
"The Presidential Medal of Freedom is an award bestowed by the president of the United States to recognize people who have made an especially meritorious contribution to the security or national interests of the United States, world peace, cultural or other significant public or private endeavors."
So..I love Belichick just as much as every other Pats fan but uh, what? What did Belichick do that was an "especially meritorious contribution to the security or national interests of the United States"? Did I miss something? Does Trump think that Belichick and the Patriots not making the playoffs was Bill's "contribution" to America by allowing another NFL team to finally win something?
Anyway, the second this news came out EVERYONE had a sneaky suspicion that Belichick was going to go and accept this award and we'd see him shaking hands with Trump which would be every Patriots haters Twitter Banner from now until the end of time with the caption: "Belichick shakes hands with Evil Trump. Typical Patriots" or some shit like that.
BUT IN A STUNNING TURN OF EVENTS, New England's fearless leader turned down this prestigious award: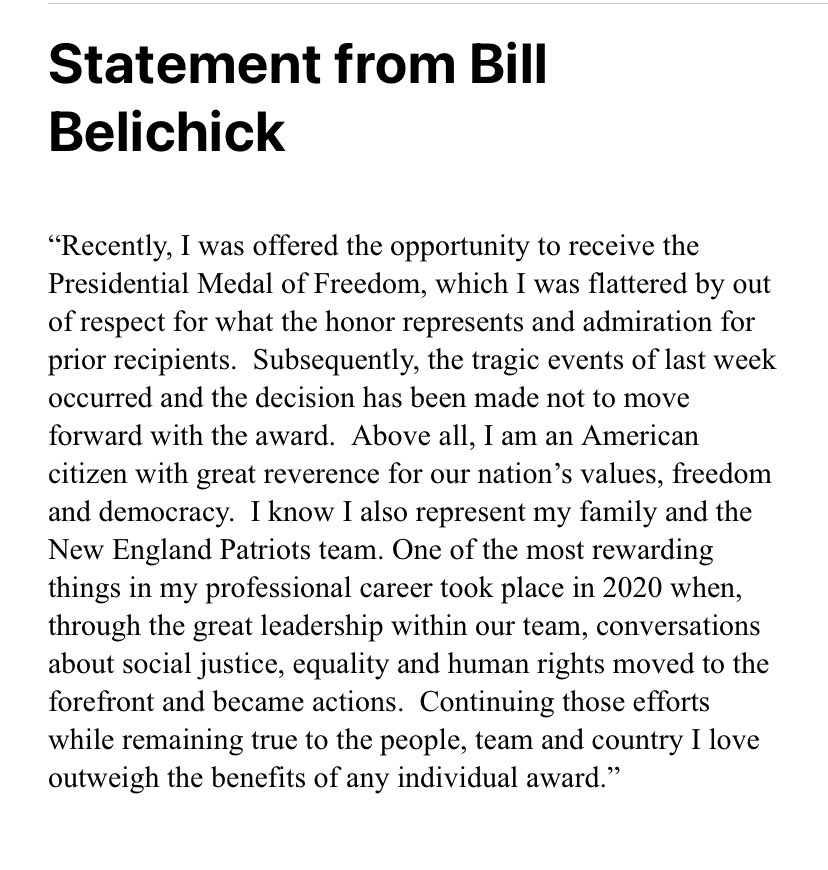 Say what you want about Bill Belichick the coach, but Bill Belichick the MAN is a top notch human being. I don't think it's a secret that Belichick and Trump may share some pleasantries from time to time, but it's pretty clear that Bill is nixing that. At least for the time being. So to come out with such a strong statement is commendable.
But please Patriots detractors, do me a favor…put aside your hatred for this team and just look at what Belichick said. He's thinking about not only himself, but his entire Patriots family. Do you understand how important that is? A man got gifted an award from the President of the United States, and he turned it down, in part, because of how it would make his players feel. No doubt thinking about how his players of color would feel, in particular.
I would imagine every Patriot across New England, or wherever else they scurried off to after such an embarrassment of a season, were waiting with baited breath to see what their coach would do. And he came through for them tenfold. You'd have to think that if Belichick did end up taking this award, he would have lost his locker room for good. Not to mention, what respectable free agent would want to come play for a coach who accepted an award from that man? ESPECIALLY after what happened at the Capitol?
Kudos to you for doing the right thing Bill Belichick. Now bring that "do the right thing" attitude to the Draft this year and PICK A QUARTERBACK OR PLAYMAKING WIDE RECEIVER PLEASE!
P.S. Don't be like this man, please.