So let's talk about it.
Derek Jeter is wildly overrated. Both on the field and off the field. For a good portion of his career, he wasn't even the best short stop on his own team, cough cough A-Rod cough cough. Mr. November did have some big hits and defensive plays, that's not debatable, but a few good plays or clutch moments shouldn't garner the league-wide ballwashing that this guy receives. So why is he put up on this pedestal like he is? Simple: pinstripes.
If Jeter wasn't a Yankee, he wouldn't be held in such high regard and pushed as one of the greatest short stops of all time. Instead, we'd be talking about how he never topped 24 home runs in a single season or the fact that despite staying off the DL for the majority of his career and racking up a healthy amount of plate appearances, Jeets never led the league in hits. Or maybe we'd talk about how he never won a batting title or an MVP in his "storied" career. And we'd surely talk about the fact that his dWAR (Defensive Wins Above Replacement) is the WORST of all time at -14.7.
But The Captain donned the hallowed pinstripes for his 20 year career, so he was looked at differently than players from other teams across the league. So instead of talking about his shortcomings and coming to grips with the fact that he's an overall slightly above average shortstop, we talk about overrated plays like this one:
Let me get this out of the way: This has zero to do with me being a Red Sox fan. I'm not jealous of Jeter or his cheating Yankees. We are their Papi and they are our son. It's all good. 
But seriously, look at that play by Jeter. What's so special about it? Yes, he ran a long way to catch the ball, but the diving into the seats and coming up with a tiny little boo boo on his face? That's all window dressing on a slightly above average play. But just like Jeter's entire career, we talk about this play like it was some all-time MLB play by a shortstop.
Probably because he got a few bumps on his face and his team/medical staff attended to him like he just got beat up by a bunch of mean Boston fans.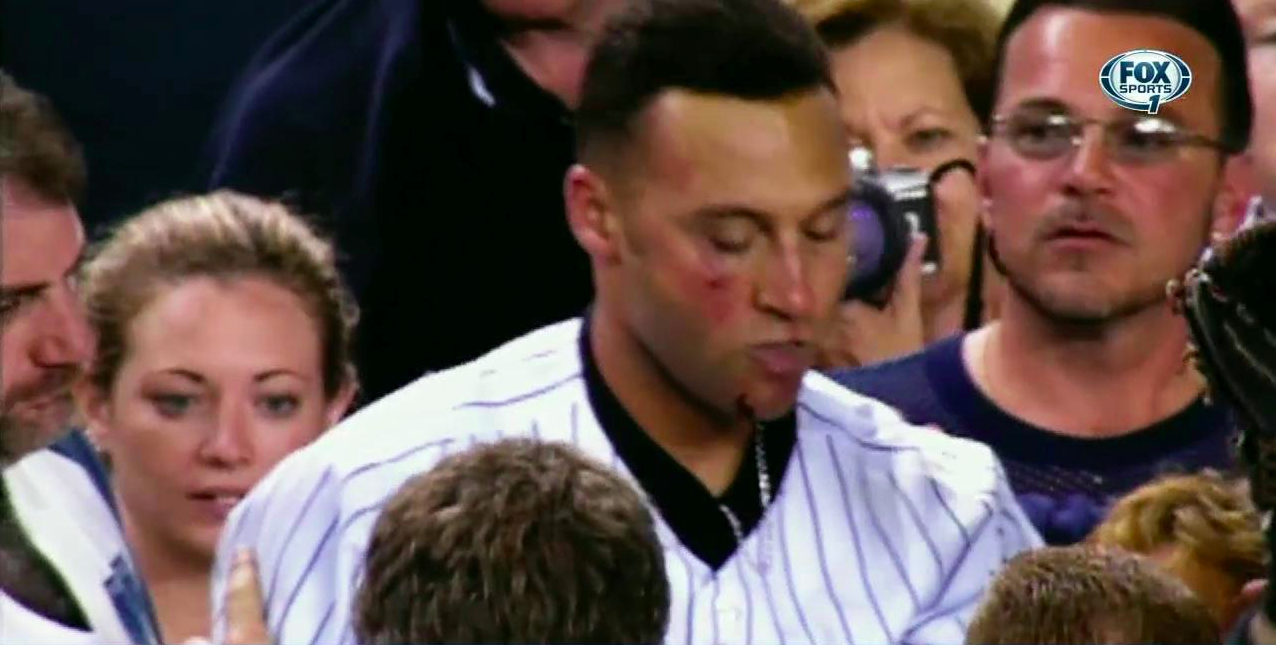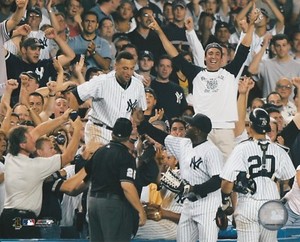 Look at Jorge Posada's face. Looking like Jeter is moments from death. I hate Jorge Posada. With the fire of a thousand suns. Frumpy bitch with a weird batting stance.
Now in that same video you can see a much better play being made by Red Sox shortstop Pokey Reese. Full on sprint, catches the ball while almost simultaneously hitting the stands and tipping over. That takes much more concentration and skill as opposed to catching the ball on the run and not being able to slow down before tumbling into the stands. And that's a fact.
So on this day, July 1st, we celebrate not the overrated stumble by Derek Jeter, but the tremendous out made by Pokey Reese. Please update the records and put Jeter's play back into mediocrity like his career should be.