Danger comes in all shapes and sizes for an NFL quarterback. And when it comes to Tom Brady and his increased age, he has to be extra careful when it comes to danger on the football field. But now, the greatest to ever do it is facing a threat that not even he can fend off.
Corona.
And no, not the beer. We all know Tom wouldn't dare put his lips on a civilian, calorie filled beverage like Corona. He'd have some sort of TB12 approved alcoholic beverage on tap.
I'm talking COVID-19.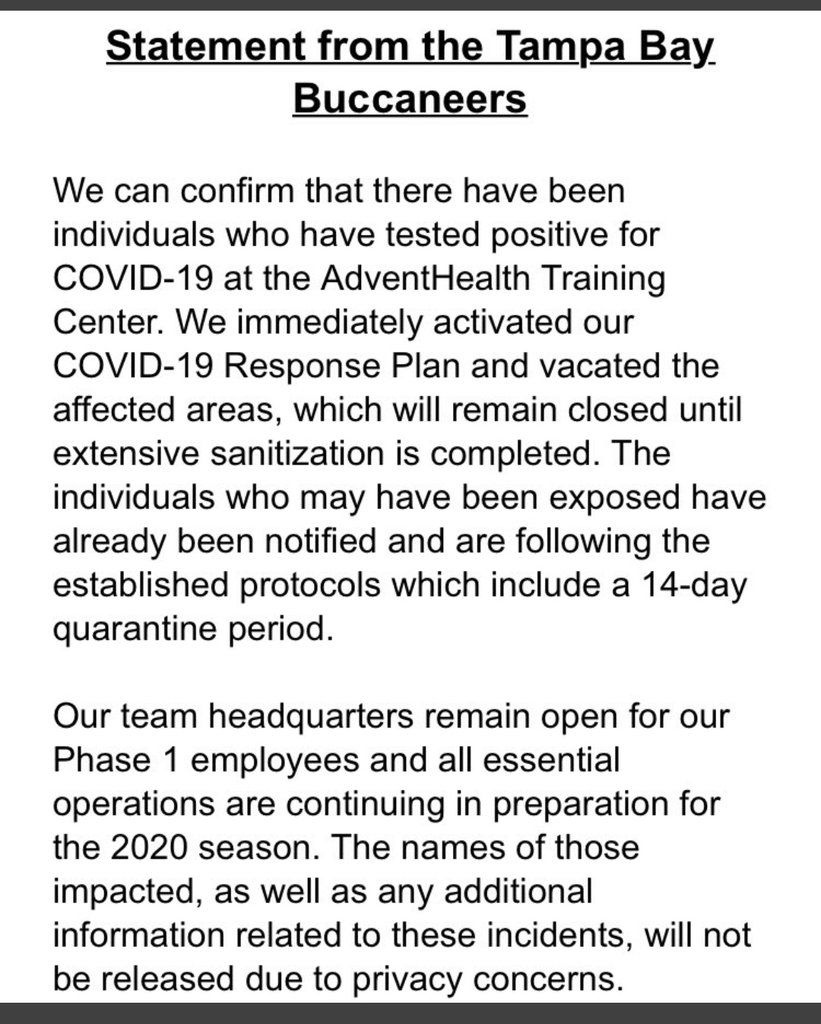 Tom Brady will be the ripe age of 43 when the 2020 NFL season (hopefully) starts. I'm not sure if you've all noticed or not, but that's pretty old to be playing in the National Football League. But as we all have seen, this specific player has done a pretty good job of keeping his body healthy throughout his two decade career.
But this is a different beast entirely. This isn't a linebacker you can side-step or a hit you can fall away from. This is a disease that is all but a death sentence to the gray-hairs. And with not one, but TWO of his teammates testing positive, Brady should be checking his blindside for the big, bad 'Rona.
And we're not only talking about the Bucs being a bubbling, disease-ridden septic pit for COVID, we're talking about the entire state of Florida.
Four thousand and forty-nine new cases! This is the state you chose to play professional football in Mr. Brady! Disgusting Florida!? Why? Just because you thought "Tompa Bay" was going to catch on? (holy shit is that a bad nickname by the way)
I know that Thomas Edward Patrick Brady is the pinnacle of our species and has put his body through such a rigorous diet that he is almost indestructible at this point, but sometimes you have to put your pride aside and realize you made a mistake. It's time to admit that you should've never left New England. This is what karma looks like. You should have bent the knee to the King in the North, Bill Belichick, and stayed where you belong.
You know what happens when you take a fish out of water and put it on land? It dies. Sure, it flaps around a bit and shows some fight, but inevitably, it dies. And if Tampa Bay is "land" and Foxboro is "water" in this scenario, Brady is the fish. And the clock is now ticking for the out of water QB.
Listen, this isn't a "I want you back Brady!" blog. I'm over it. I've moved on. But that will be a blog for another time. This is me worrying and caring about my elder. And elder that has brought me so much joy and happiness in my lifetime. And I hate to bring this up, but I'm not really sure if Tom Brady is always on the up and up when it comes to social distancing either…
New England Tom would never blatantly break rules like this, but Tompa? Tompa doesn't care about your social distancing. Tompa needs to get that work in. Coronavirus be damned!
While we're all weary about Father Time eventually taking out the GOAT, maybe we should start paying attention to the real boogeyman under the bed. Make sure you order a nice TB12 mask Tom, you're gonna need it.