Listen, I don't care about jinxes. This Patriots team has the potential to go undefeated. 19-0. It may actually be written in the stars..
Anyway, what a freaking showcase tonight was for this Patriots football team. RUN THE HIGHLIGHTS!
Josh Gordon is still on the Patriots and he's still doing Josh Gordon things.
Bad idea to forget that Josh Gordon is a beast and takes more than an above average shove to take him down. Tough look for a Steelers defense that got absolutely undressed tonight. Did Pittsburgh think he couldn't still do these types of things? Well now they know firsthand that he most definitely can.
Also, how on Earth can anyone hold on to a football while simultaneously getting bullseyed by a defensive back? And then get up and act like nothing happened? Have the talent that Gordon has, that's how. People forget that, when not smoking the devil's lettuce, this guy was in the conversation as the best receivers to ever lace em up. Oh, and Josh was triple covered on that play, just letting everyone know. Won't be able to do that when Brown and Thomas are there.
It wouldn't be a Patriots game without a little trickery to piss Tomlin off.
Fun factoid for all NFL fans, this pass gave Julian Edelman more passing yards in the 1st quarter than Aaron Rodgers had in his game's opening quarter. Edelman plays receiver. Rodgers plays QB. Is Jules better at A-Rod's position than he is? I'm not qualified to make that assumption, but yes.
I also legitimately forgot about Edelman halfway through the first quarter. That's how talented and deep this team is at receiver.
Speaking of being deep at receiver….
Nothing to see here, just our 5th best wideout. Easy for Dorsett to get lost in this receiving corps, which is hilarious because he has more trust from Brady than anyone else on the offense not named Edelman. It's laughable how much talent this team has on offense for Brady to play with.
At the end of the first half the Patriots scored 20 points without two of their top three receivers. Oh, and I forgot to mention that they held the Steelers to a grand total of 0.0 points. Easy to let how good this defense is going to be get lost in the shuffle, but it's a very real possibility that this team could have the top offense and defense in the league. It's pretty swell to be a Pats fan.
One of my favorite parts of this game was, while being down 3 scores, Mike Tomlin thought it'd be a good idea to kick a field goal from the one yard line. THE ONE YARD LINE! You literally can't be any closer to getting a touchdown, and this putz thinks a field goal is gonna help his team win. You can't beat the Patriots kicking field goals. You'd think Tomlin would know that by now, but that's probably why he's never won in Foxboro.
Every time these two teams play, I get unnecessarily nervous. I say unnecessarily because, while everyone wants to make this a rivalry, the Patriots and Tom Brady own Mike Tomlin. Especially in Gillette Stadium which is where this non-competitive game took place tonight.
Another little sidenote I have tonight: hey Jules, you don't need to barrel head first into every single tackle. You're tough. We all get that. Let's keep the concussions to a minimum this year shall we?
OH SHIT! I forgot to bring up the running backs! Sony Michel had a crappy game .No question about that. But wanna know what's the best part about having a coach that sees value in having multiple above average backs instead of one superstar? Depth.
Remember when everyone thought Burkhead was gonna get cut? HA! You know nothing.
8 rushes for 44 yards to go along with 5 catches for 42 yards is a good stat line for a running back that isn't even the focal point of the backfield right?
Jesus Mike can you stop gushing over this offense!? Can the D get some love! (unintended pun there)
Michael Bennett may have just won me over with a single phrase:
Imagine Bennett in the Black Panther suit? He'd be terrifying. Moreso than he already is with those little bitchass shoulder pads. It's the only thing I'll never be able to get over. Get regular sized shoulder pads sir!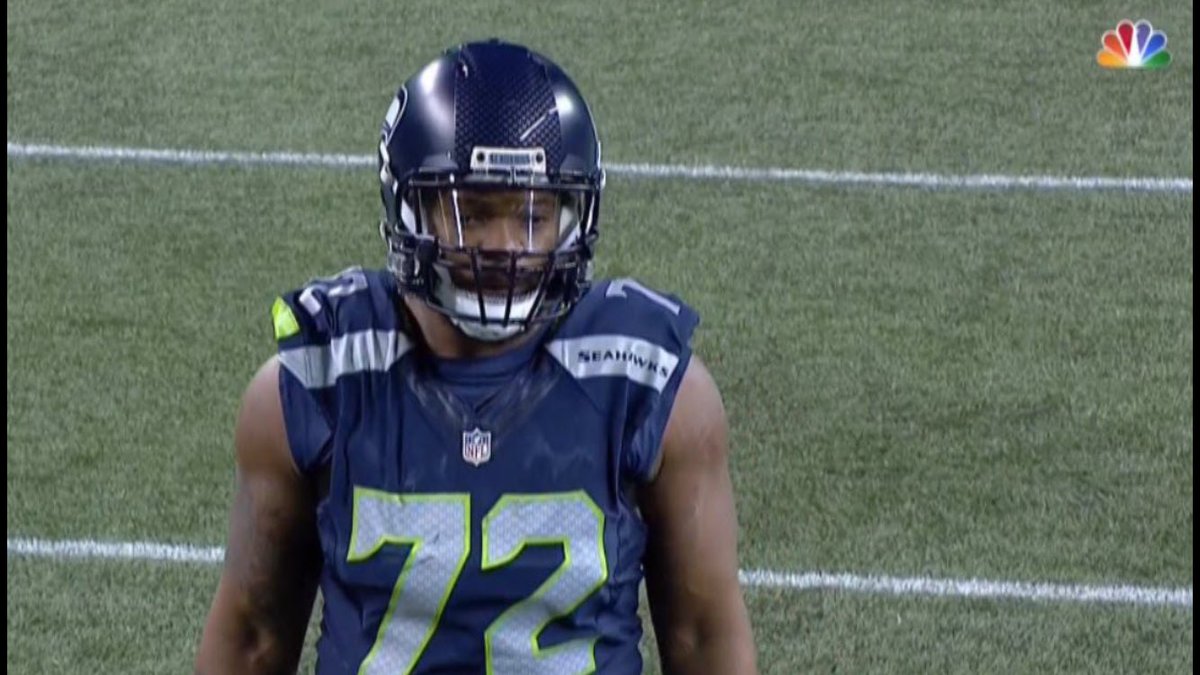 Wanna know how good this defense is gonna be? They hold this potent Steelers offense to THREE points while our best corner had a relatively mediocre game. Gilmore let up some passes he normally shuts down and added his weekly holding call to the mix. I'm not even slightly worried though. On top of that, Kyle Van Noy was out due to the birth of his child! Two of our top 8 defensive players out or having a shit game and this defense more than holds their own. Scared yet NFL?
All things considered, I know this is just the first game of the season. I know that you can't judge everything based on ONE game. I get that. But I also understand that whenever teams play the Patriots, they come out with their best shot. The Steelers are a very good team. They looked like knock-off versions of themselves tonight BECAUSE of the Pats. Don't let anyone tell you that the Steelers "actually suck" or that they are overrated or anything like that. The Patriots are just that much better.
The defense looked great tonight. Young players showing they're gonna have an impact. Linebackers doing a great job covering the backs. No dumb penalties. Just an overall really really good sign of things to come for Bill's D this year.
The offense on the other hand ONLY scored 33 points. They could've at least for to 40. What a shit show! All sarcasm aside, this offense is going to be terrifyingly good this year. I don't have to beat it into your head, but this all happened without Thomas, Harry OR ANTONIO FREAKING BROWN.
Speaking of Mr. Big Chest, if you're worried about where he's gonna stay in Mass while looking for a new home, the GOAT's got it covered.
How are the Rob Parker's of the world going to bad mouth Brady's 24/36, 341 yards and 3 TD's? And what's the first thing he says after the game? "We gotta do better." That's the difference between the GOAT and a quarterback who throws no-look passes while missing wide open receivers. Where was this noodle arm I keep hearing about?
33-3. See ya in Miami. Or as it's known in New England, the Twilight Zone. LFG.