Savages, amirite?
The Yankees are in first place right? That's what I kept seeing and hearing from their fans. I only ask because, let me tell ya, with the performance I saw from this NY team, I'm not sure how they got to where they are.
Are they frauds? I'm not qualified to say. But what I am qualified to say, is that the Boston Red Sox reinvigorated their season and ripped the souls out of the New York Yankees.
19-3. 10-5. 9-5.
Give the Yanks credit, they didn't roll over and die after the mollywhopping they took in the first game. A lesser team would've tipped their cap and high-tailed it outta Boston. Not the Yankees though. They say there and took two more punches to the face before leaving. Credit where credit is due.
I'm not gonna sit here and bore you with stats and how the Yankees hitters barely showed up or how Bogaerts showed why he should've been an All-Star or how Rafael Devers, as a middle schooler, basically showed how he is a top 3 hitter in baseball.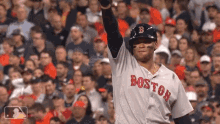 No, no, no. I won't do that. Instead, I'll tell you that the Sox are now in the second Wild Card spot and have won the first series against their rival Yankees. I'm not sure what this series is gonna mean in the long run, but it really seems like this club finally woke up and realized we're not that far from the playoffs. Time to start kicking ass.
And how do you do that? You take out the number one team in your division and make them look like they don't even belong on the same diamond as you.
With Chris Sale going tomorrow, a sweep of NY is a very realistic reality, and that would vault this team into a series against the Rays. Win that series and then come back to the Bronx and win that, and you have all the momentum going into this final stretch of the season.
#StillHere bitches. Let's go Sox.