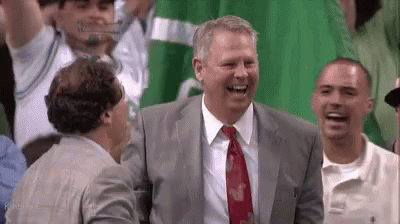 Well shit, maybe Danny hasn't lost his fastball like I said so eloquently before? After putting together a team that hated each other and then botching the draft IMHO, I really thought that Ainge was becoming old and senile.
But then I start seeing all this!
I understand that rumors fly around like crazy the closer we get to free agency on Sunday, but it's impossible to not get excited about this as a Celtics fan. And it's not only one or two accounts reporting this, it's various different accounts from many different outlets.
Where there's smoke there's hopefully fire with this.
And if you're one of those pea brains who thinks there's any negative whatsoever to Kemba Walker joining this team, wanna see how good he was last year?
Sure, Kyrie is certainly more talented, that's without a doubt. But once you throw in the fact that Walker won't completely destroy this team from the inside out and may actually lead some of his younger teammates, you start to realize how good this signing could be for Boston.
It's tough not to start breathing heavy over a possible starting lineup of Kemba, Brown, Tatum, Hayward and Capela. That's a team that's not only gonna score night in and night out, but grind down the opposing team on defense. Sure, Kemba leaves much to be desired on that front, but there's plenty of ways to hide that with this starting 5.
And while Capela is kind of limited offensively with his range solely being shots in the paint along with put-backs and lobs, he'll be bringing some stout defense and that's always a welcomed commodity.
Now all we can do is wait. Sit back and hope that Danny Ainge lives up to his hype and pulls these moves off. Even if we don't land Capela, you can't start this season without Kemba on your team. You just can't. If that ends up happening, then Danny would have lost all legitimacy in the eyes of the Boston fanbase.
Sunday will not only be a big day for this Celtics franchise moving forward, but also for Trader Danny. There's no excuse or explanation on planet Earth that will explain away why Kemba does not end up on this basketball team. Capela I could understand, there's not as much traction with that one.
But if Kemba Walker does not end up on the Boston Celtics this year, there is only one explanation. Failure on the part of Ainge. And that's the last thing we need after the clusterfuck of a season last year.
Good night and good luck friends.