Brady posting workouts at his home are nothing new. He loves doing these intimate workouts with his receivers. And unless you're Ben Volin, you probably like that he does this too. But he posted something recently and it kinda stood out..
BAH GOD THAT'S JOSH GORDON'S MUSIC!
You remember Josh Gordon right? The freakishly talented 6'3, 225 lb wide receiver that, sadly, got his season cut short last year due to drugs? The guy who, when healthy, is the most talented receiving option this side of Randy Moss that Tom Brady has had? (Yes, Edelman is amazing..but Gordon is just different) Yeah, THAT guy looks to be coming back.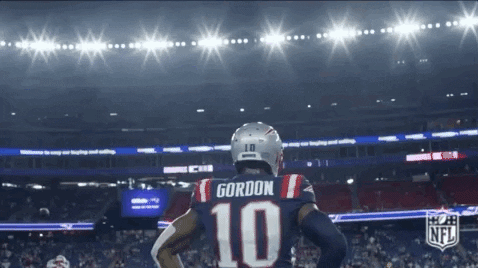 Gordon has been posting pictures on his Instagram all offseason wearing Patriots apparel and being around Foxboro, so him wanting to come back to the Pats isn't surprising. He's clearly upset with the fact that, due to his own demons, he couldn't be on the field at the end of the year. So it was clear that he's been eyeing a return to the Super Bowl Champs.
But you know what IS surprising? Brady posting a video of them working out at his home.
We heard all last year how much everyone in the locker room loved Josh and how they felt bad and wished the best for him. But it's awesome to see your franchise quarterback, someone who is very meticulous with who he posts pictures with, giving that vote of confidence in Gordon.
And please believe, this definitely means something. Brady isn't gonna waste time working out with someone who he doesn't believe is going to be on the team this year. So seeing this video not only shows that Gordon is one step closer to coming back to the field, but also that Brady is on board with it all and wants to build on their budding chemistry from last season.
And if I'm the rest of the league, I'm terrified. Everything was panning out perfectly!
Gronk was retiring. Hogan got shipped to Carolina. Brady is losing all his weapons!
But just like the people of Winterfell, we are a stubborn bunch. While everyone else looks down upon us, we will stay in the North and rebuild our forces. And when we finally decide to take out army on the move, watch out.
Winter is coming bitch.
Picture the starting offensive weapons for Brady:
Edelman, Gordon, Harry, Thomas, Watson )when he comes back), and White out of the backfield. And when teams drop some backers into coverage or unload the box, you pound the rock with Michel. Like I said before, if I were the rest of the league, I'd be very, very scared.
And the start of all of this is TB12 putting in work with Flash.
They say a picture can say a thousand words. But in this case, a video says 7 rings.