Reviews are just ONE persons opinion. You most likely have a different one than I do when it comes to this episode and that's okay! I want to start this out by saying that I enjoyed the episode. It was good. A SHIT ton of action, that I'll get into in a minute, and a few really cool moments. But did this episode live up to the crazy hype we've heard for the past year?
Gotta be real with you, I don't think it did.
Little disclaimer here, I tend to like episodes that are more character driven. Don't get me wrong, I love throats getting slit and heads getting chopped off. But I like to have that balanced with the plot moving forward and some character development.
Let's just get the obvious out of the way first: this episode was a nightmare to follow during the battle sequences. At first I thought it was just my TV but then I saw everyone else complaining too. The most successful show on television and they couldn't brighten up the screen and steady the camera a bit? Come on guys. It really took me out of half of the battle scenes since I had no idea what was going on. I had a headache by the time the dead finally got to the gates of Winterfell.
Speaking of the battle scenes it was kinda just reliving the same shot over and over again. How many times can we see the main characters look like they're about to get absolutely demolished by the dead, then move to another part of the battle, then get brought right back to that same character seemingly fine and just moving on to the next wave of dead? That part just got really old really fast.
It wasn't all bad though! The Dothraki having their swords lit up by the Red Woman was an awesome visual. As was each and every one of those swords going out once they ran willy nilly into the darkness to fight an enemy they've never seen before. THIS IS WHY THE DOTHRAKI DON'T GO ON BOATS! Now look at 'em, all dead. Jorah (RIP) riding back like"Yooooo FUCK this guys, you don't wanna know whats over there." Was a subtly hilarious moment.
To talk a little more about the battle itself, Grey Worm having to make the hard decision of killing almost his entire army in an effort to save Winterfell was more heartbreaking than I thought it would be. They shot that perfectly too, with the camera focused squarely on his face while watching his Unsullied get ran the hell over. That was a rare scene of character depth that this episode gave to us and I loved it.
We took the good with the annoying in this episode though, so can we talk about how useless Jon and Khaleesi were on their dragons!? I mean sure, they swung by a few times and lit those bitches up here and there, but then they just flew off and got lost in the fog for like, 70% of the battle! And that dragon fight was cool but I just wish it was done a little better. Mainly, as was the theme with this episode, I wish we could really see what was going on. I know it's probably tough with 3 CGI dragons but still, I was underwhelmed by that part.
Another weird part for me was just watching the Night King tumble off his dragon like a child. That made me feel weird inside. I don't quite know why, but it just made me think like, you're this badass dark ice king, and you just get knocked off your ice dragon like a babyback bitch? I don't know.
But boy oh boy did he make up for that.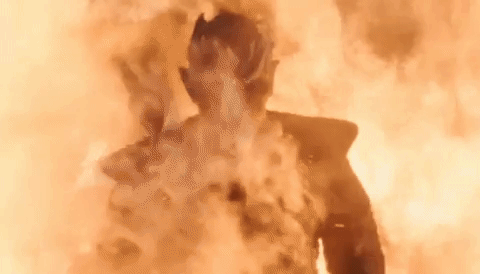 Our girl Dany thought she had everything figured out with her 'dracarys' and BOOM! Lit him up like a Christmas tree. But that tricky devil don't care about your dragon fire! I think we all knew the Night King was gonna walk away from that, but it didn't make that moment any less badass. And that smirk! Like, "HA! You thought your cute lil pet was gonna kill me? Not today Dragon Queen!"
Since we're talking about the Night King, let me just get this out there. The payoff for that storyline was LAME. Since the very beginning of the show they've been building up how badass and terrifying he is. Which, to their credit, they definitely gave us some moments of that for sure. But, when all the cards are on the table and he finally shows up, he dies just like that, and doesn't even take out any main characters! I get that this was just kinda building up how dangerous Arya has become but I mean come on. She snuck up on all the White Walkers and none of them noticed!? And I thought for SURE one of our main peeps were gonna feel the end of his ice sword. Nope! The only real big death we got was dickless Reek. Even though I really liked his redemption this season, and his death scene was done really well too, I just wanted another big player to die!
And I feel like we got cheated out of an epic sword fight between Jon Snow and the Night King as well. They could've done that and still had him raise the dead too. Have him and Jon fighting and Jon actually starts to get the best of him when all of the sudden the Night King backs up, raises his arms, smirks and walks away. Oh well.
Arya was the MVP of this entire episode though. Everything from her wielding her cool new weapon, to having the Jurassic Park 'raptors in the kitchen' scene where she's sneaking around all the zombies, to her actually killing the Night King was awesome. When she comes jumping out of the darkness and THE NIGHT KING FREAKING CATCHES HER I thought for sure she was done for. But then she does a little slight of hand and bam, no more Night King.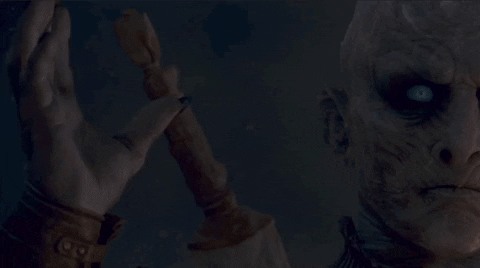 Other than all that, we got Jorah dying defending Dany's useless ass and remaining in the friend zone. That guy from the Nights Watch who I can't remember right now but I liked was the first to go. Beric died saving the Hound and Arya which was cool, I really liked him and his flaming sword. The Red Woman died, good riddance. And how can I forget our fearless little leader, Lyanna Mormont! What a badass way to go too, taking out a giant who was just cleaning house. You could say without her doing that, the Night King wins cause that giant was not gonna be stopped by freaking Sam and one handed Jamie.
Oh, speaking of Jamie, watching Brienne have to save him was funny. This man who was once the most feared sword in all of Westeros is now being saved at every turn. Whatta character arc for him. Gonna suck when Cersei slits his throat.
Speaking of the Lannisters, Tyrion really didn't do much here. Him and Sansa looked like they were gonna run into the imminent death, but they just ended up running to the other side of the crypts. Big build up for another meh payoff.
My only other real gripe with this episode is that, for some reason, it just feels hollow to me. Like, we got this big battle, but nothing really happened. We have a few B players die, but no one really did anything. Jon and Dany didn't even have any tense moments as a call back to the bombshell Jon dropped right before the battle. Just give me something there. Like Dany is about to save Jon's ass and hesitates for a second showing that she is thinking that as long as he lives he's the real heir to the throne. Of course she ends up saving him but still, just give us some sort of moment like that.
No character other than Arya got any significant screen time. Bran's screentime is always enjoyable though. In the middle of talking to Theon he's just like "Yeaaaahhh, I'm out. See ya later bro!"
This episode just felt like they had a big battle just to have one. No twists or turns really other than Arya killing the Night King which made him look like a bad guy who was all talk and no action. And his motivation really was just to kill everyone and cause an endless night. Which is a fine motivation, but I think a lot of people just expected more.
For a show that used to have the 'don't become too attached to anyone cause your favorite character could die at any minute' moniker, all of our main characters have been pretty safe recently. The biggest battle in Westeros history and we get no big deaths? Felt strange.
All in all it was an enjoyable episode though. We finally can go back to Cersei being the main baddie and watching how all that pans out is gonna be enjoyable as hell. The last few episode are all almost an hour and a half so strap in folks. The final battle for Westeros is upon us!
Valar Morghulis.