I know as Boston sports fans there is a lot going on right now. The Bruins and Celtics are both in the playoffs as we speak with the B's series tied at 2-2 and the C's up 2-0. We do not need to talk about the Red Sox, who seemingly forgot how to play baseball this year. But on a more lighter note, the Patriots 2019 regular season schedule has been released.
And let me tell ya, even though I feel this way every year, I sense a great season coming on friends!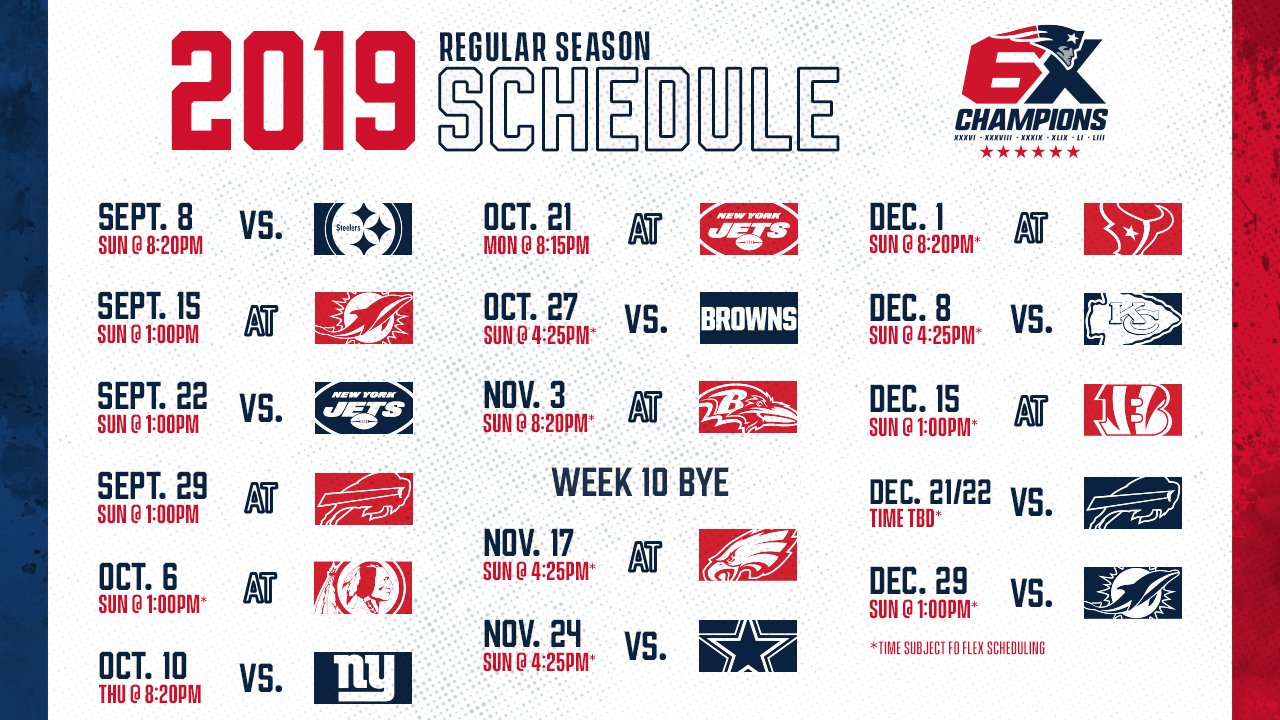 I mean, let's just dive right in real quick here:
Week 1: vs Steelers
I mean, Pittsburgh just isn't what they used to be. They have old ass Big Ben at QB who, sure, can still make the throws, but he's in the downside. Sure, JuJu is an above average receiver and Conner was a serviceable running back last year, but other than that, what are the Steelers? A team that no longer has two of its three impact players to go along with a defense that hasn't gotten any better. Face em at home and the outcome is obvious. Outcome: Win
Week 2: at Miami
Not much to say here. The Dolphins could suit up 8 men on the field on each side of the ball and it wouldn't matter. Miami is the Twilight Zone for the Pats so, again, the outcome here is gonna be fairly obvious. Outcome: Loss
Week 3: vs Jets
The Jets and their horrendous uniforms will probably come out guns blazing here but this will end up being a comfortable 14-24 pt win here for sure. Outcome: Win
Week 4: at Bills
Buffalo is a mess. They really never seem to know what they're doing and this is also another year under the belt of McCoy who seems to be getting injured more and more. This one should be easy. Outcome: Win
Week 5: at Washington
The Redskins are a perennial average team from the NFC. The Patriots normally take out their aggression on these types of teams and use them as a whipping boy. This will be a blowout where Brady may even come out towards the end of the game. Or he'll stay in to step on their throat. Outcome: Win
Week 6: vs Giants
Hahahahahahaha Eli Manning sucks so bad. Now, without Odell, he has nothing. Barkley will have an average game and the Giants will get their asses kicked. With two or three picks, this may be the last game that doofy Eli plays this season. Outcome: Win
Week 7: at Jets
Monday Night Football game against the Jets. This has snoozefest written all over it. This will be over by halftime. The Jets do nothing but crumble in these types of games. Another NY team bites the dust. Outcome: Win
Week 8: vs Cleveland
I never thought I'd say this, but the Browns are gonna be the first actual test of the season for New England. This one will be close, but not because the game itself will be that competitive. The Pats will be up by 14 late and they'll go into 'prevent defense' which will allow Baker to screw around and bring it to within one score. Ultimately though, Belichick will baffle Mayfield with his defensive scheme which will lead to another W. Outcome: Win
Week 9: at Baltimore
If you really think that Lamar freaking Jackson is gonna beat a Bill Belichick coached team, then you know nothing Jon Snow. Easy. Outcome: Win
Week 11: at Philadelphia
Give New England a Bye Week to prepare for a team who's QB hasn't faced the great Bill Belichick before, and you got the ingredients for a W my friend. This will be the game where Philly finally turns on Prince Harry…I mean, Carson Wentz. I hate Philadelphia. Outcome: Win
Week 12: vs Dallas
I really want to give the Cowboys the win here. I, unlike many, actually actively root for Dallas to succeed. Nothing would delight me more than to have a Patriots vs Cowboys Super Bowl just to watch the world burn in hatred for both teams. But on this day, New England will eek out a field goal win at home. Outcome: Win
Week 13: at Houston
This is the game where Brady looks old, the defense gives up big plays, and another Belichick protege beats the master. Texans will win by double digits here and the media will say this is the beginning of the end. Outcome: Loss
Week 14: vs Kansas City
The talk around this game will once again be "this is the passing of the torch moment" between two great QB's. But no torch passing will happen tonight. This will be a low scoring, snowy game that will prove that even though Mahomes is flashy, it takes more than cool plays to defeat the defending champs. Outcome: Win
Week 15: at Bengals
I mean, it's the freaking Bengals people. HOT TAKE ALERT: AJ Green will be playing in this game but not for Cincy. That's right, the Pats will acquire Green before this game happens for a 2nd and 5th round pick. Outcome: Win
Week 16: vs Bills
This one will be way too close for comfort, as New England will probably already have all their playoff seeding and whatnot locked up. But in the end, Bills Mafia will not be enough to push their team past the Pats. Outcome: Win
Week 17: vs Dolphins
I mean, who knows. This game will most likely mean nothing for either team. You'll probably get a very conservative gameplan from Belichick here, but still, I don't see Miami coming into Gillette in cold weather and winning. Outcome: Win
2019 Record: 14-2
I really feel like I hit the nail on the head with this one. First round bye, homefield throughout the playoffs and another Super Bowl appearance? We'll see. You'll have to wait til I do my 2019 NFL Season preview/predictions as we get closer to kickoff.
Don't forget to brush your teeth everybody!